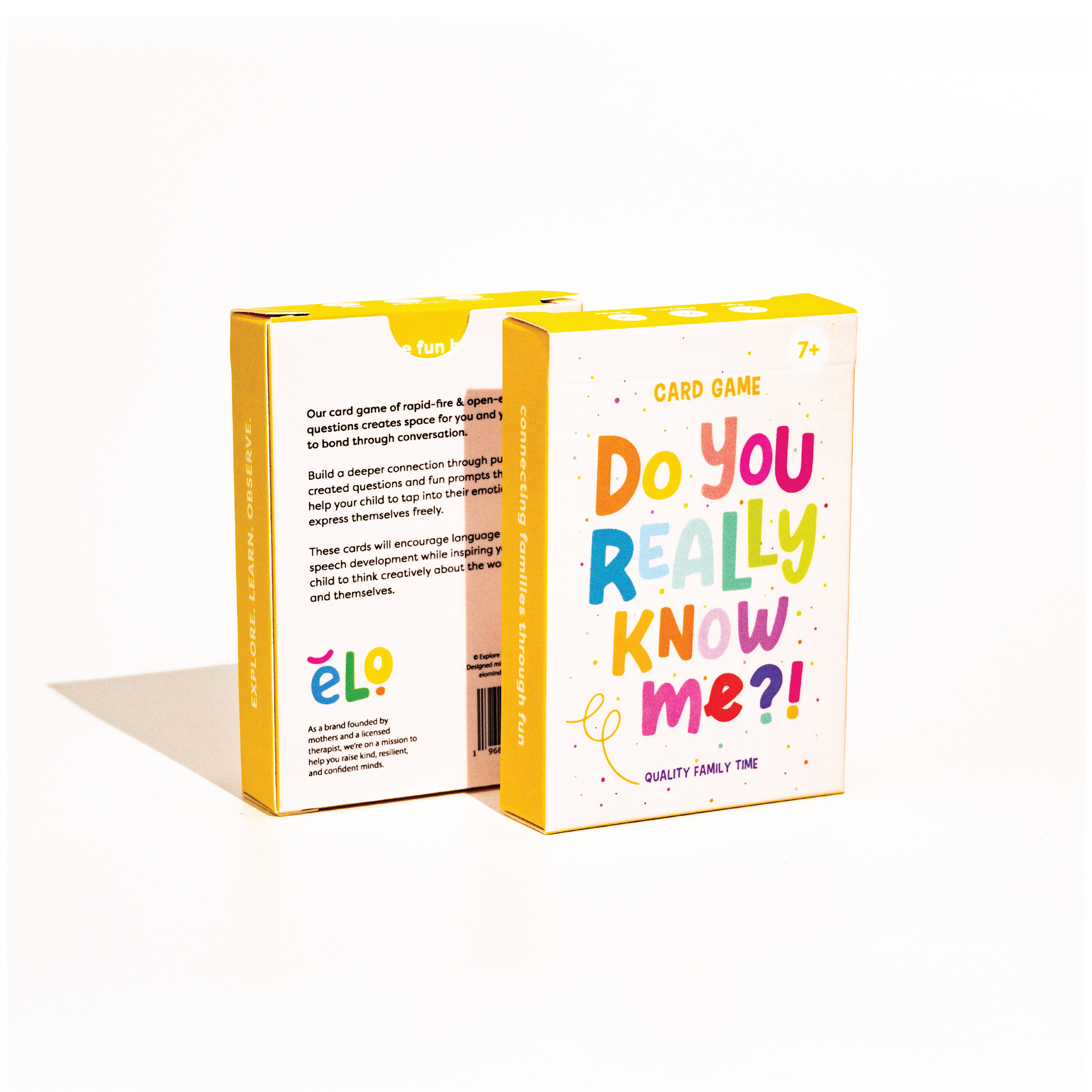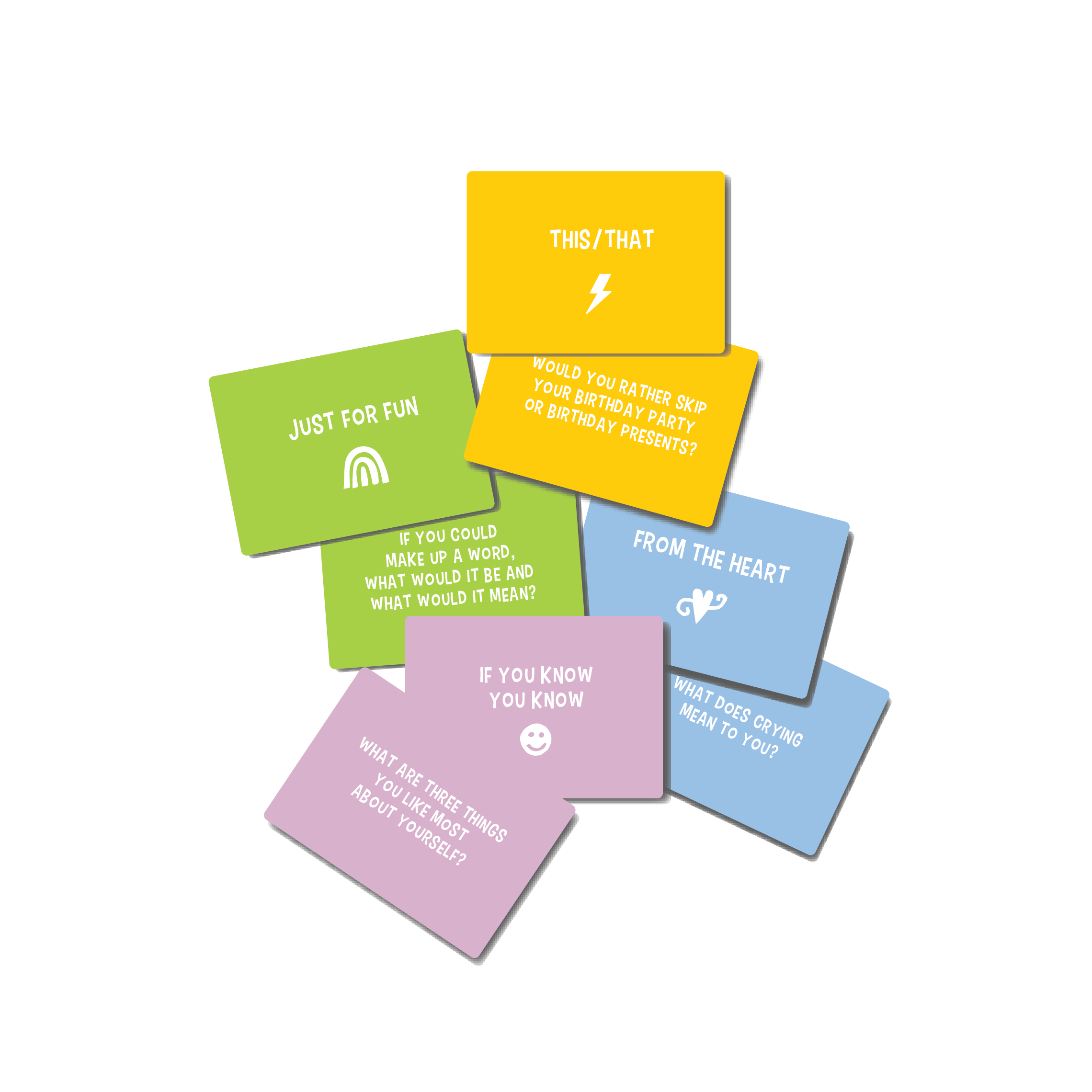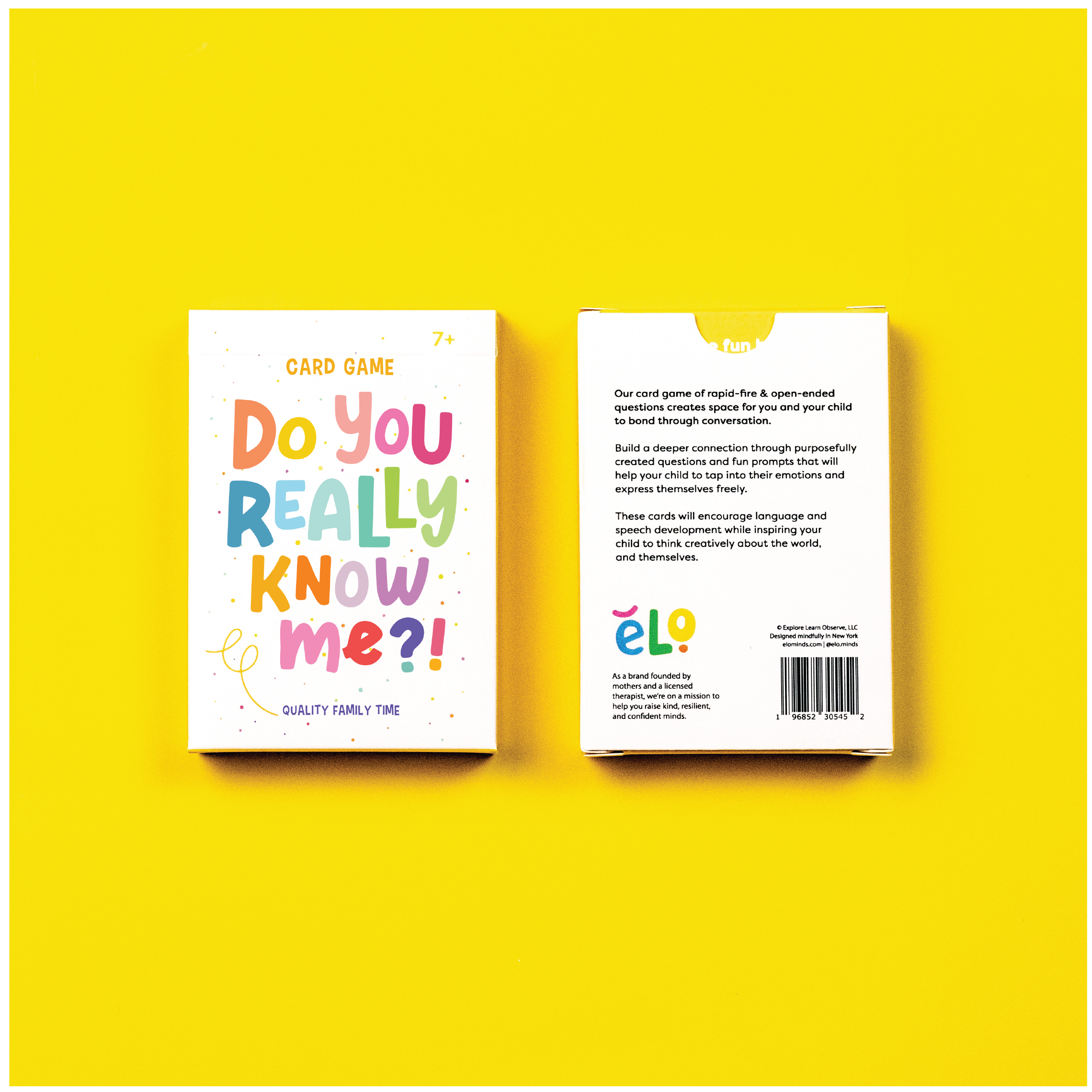 Do You REALLY Know Me?! | 2-Pack Bundle
$33.00
Regular price
$35.00
off
Description
What's Included
How to Play
Benefits
Save when you buy 2! (This product makes the perfect gift!)
Our card game of rapid-fire & open-ended questions creates space for you and your child to bond through conversation.  
Build a deeper connection through purposefully created questions and fun prompts that will help your child to tap into their emotions and express themselves freely.  
These cards will encourage language and speech development while inspiring your child to think creatively about the world, and themselves.
Matte tuck box with 54 cards
4 categories of questions:
- This or That (rapid fire)
- If You Know, You Know (get to know me)
- From The Heart (get deeper) 
- Just For Fun (get silly!)
Wild Card + Instruction Card included
This fun game can be played anywhere, anytime! Sit face-to-face with each other and use the Wild Card to determine who starts. Separate the cards by category or shuffle them all together.
The starting player will choose a card from any category of their choice and read the question out loud. The other player will answer the question, and then take their turn by choosing a card.
The players alternate each taking turns to ask and answer. The game can carry on for as long as the players wish or until all the cards have been completed.
• Encourages communication between you and your child.
• Encourages exploration of feelings, emotions, likes and dislikes.
• Freely express and share who you/they REALLY are.
• Lots of laughs, tears and insight! (explore, learn, observe 😉)
• Helps in developing your child's communication, creativity, confidence and critical thinking.
Do You REALLY Know Me?! | 2-Pack Bundle
$33.00 USD
Regular price
$35.00 USD
Shipping
USA, UAE + Canadian Shipping
🇺🇸 USA orders ship free $25+
🇦🇪 UAE orders:  This product is not available for domestic shipping in the UAE yet. Currently only The ELO Deck is available for domestic shipment from Dubai.
🇨🇦 Canadian orders. Our Canadian inventory is housed in Toronto and will ship through domestic postal service. Please select Canadian Flat Rate Shipping at checkout.
Fast Shipping
All our orders are packed within 2 business days of order confirmation!
Order tracking
You can use your order# or the Shop App to track your order at anytime! You will also be provided with a tracking number once shipped!
Get in touch
We are always happy to answer any questions, or assist further in implementing the mindfulness routines
Email us at hello@elominds.com, DM us on Instagram @elo.minds, or during business hours, chat with us directly in our live chat option on the site (below)!
Bulk Orders
Bulk orders are available - this is a great gifting items. We also offer wholesale pricing for orders of 30+ decks! Email hello@elominds.com or head to out elo.faire.com
FAQ
What age group is this for?
Our game card has questions that would be best answered by those aged 7+. However this game has been tested and enjoy by ages 5+
When to play this game?
Some great times to enjoy playing this game is:
• At family dinners,
• Family game nights,
• After school
• While waiting at a restaurant, or
• While on vacation!